Switchback Cyclery – Queen East bike shop started to support street-involved and homeless
"In our experience, we've discovered that by propelling community, our lives become so much richer when we move into the slow lane and get to know and work with some of the men and women who make our city unique. We are privileged to be your local bike shop." – http://www.switchbackcyclery.ca/
Here's an article written when the shop first opened:
Switchback Cyclery brings a new spin to the Riverside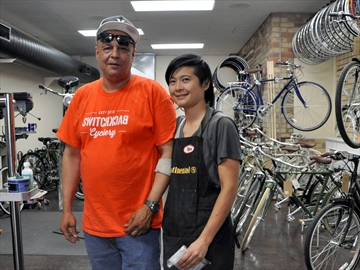 Switchback Cyclery
Staff photo/REBECCA FIELD
Switchback Cyclery employee Dan Rivers, left, and co-manager Cynthia Leung will get down to work August 10 when the shop opens officially. The cyclery is a social enterprise that hires marginalized members of the Toronto community, while selling high-quality bicycles and offering tune ups and repairs.
Beach Mirror
The summer months have brought plethora of cyclists to the Riverside neighbourhood, and along with it, a new cycle shop. However, this shop brings something extra: a mixture of bike expertise, passion, and social enterprise.
Switchback Cyclery works under the umbrella of Sanctuary Ministries of Toronto, and sets out to not only provide high-quality cycle equipment, but also hires marginalized members of the community as part of its mission.
The store, at 651 Queen St. E., is set to officially open Saturday, Aug. 10, but has been unofficially open for shorter hours since early June.
"It's giving people some skills and some courage to get back to the workforce," said Dan Rivers from Leslieville.
Sanctuary Ministries of Toronto is a Christian organization that welcomes marginalized Torontonians under its wing in an effort to create a community based around inclusiveness.
Rivers joined Sanctuary Ministries after leaving jobs at the University of Toronto as well as the Metro Toronto Court House due to stress, ending up on the Ontario Disability Support Program (ODSP).
It's through sanctuary that he was able to get a job at Switchback Cyclery.
"When I took some time off I did it kind of hastily and I didn't realize how complicated it was," said Rivers. "When they came it was like a godsend."
"It's a good feeling to be back at work, and it's a good feeling to keep my hands busy again," he said.
The shop is co-managed by Steve Hunter and Cynthia Leung who met at the Ministry and both have a passion for cycling.
After running a woodworking shop called the Mustard Train as the same type of social enterprise, Hunter realized they needed a more sustainable means of helping people keep their hands busy, as well as one that allowed them to interact in a storefront-type setting.
"Guys and girls would come and work in a closed environment, and at the end of the day go home," said Hunter.
"As you can see this is open to the public and it creates the ability for our folks to be able to interface with the community at large, rather than just interfacing with myself and whoever else is on staff," Hunter said.
The Mustard Train made furniture and electric guitars, which they weren't able to sell fast enough to be self–sufficient.
"You put a deep gauge in a guitar body, you don't put filler in it, you start with a new piece of wood," said Hunter. "That wasn't doable."
The Mustard Train was then abandoned, and the board at the Ministry brainstormed almost 200 ideas before narrowing it down to the cycle shop.
"This idea came out on top, and it was an idea that I could champion," said Hunter who attended incubator-like seminars and programming with the Toronto Enterprise Fund – which is operated through the United Way – eventually winning funding in a Dragon's Den style presentation in December, 2012.
"We've (Leung and Hunter) been fixing our own bikes and other folks' for years," said Hunter who moved from Smiths Falls, Ontario seven years ago to help out with Sanctuary. "That's not the reason why we're here, that's the reason we could champion this initiative. This really feeds me."
"My passion is to be involved with people who are suffering with inequity," said Hunter. "There's a cost emotionally, there's a cost mentally, there's a cost physically, there's a cost spiritually, at every level, but there's also a benefit to that; what you see, and what you experience, and the relationships you develop."
Leung left a job as an electrical engineer to co-manage the store, which Hunter said also maintains its integrity by only selling quality products and top cycling brands.
"There's been a really warm and welcoming reception by everybody in the neighbourhood," said Leung. The team researched bike traffic before deciding on a location, making sure their store would be easily accessible for commuters. "I think people here in the east end – they've been really kind of excited by having a bike shop open here."
The store will start opening as early as 7:30 a.m. and closing at 7 p.m. in August before the grand opening in order to cater to commuters early in the morning and late at night. Switchback will have some cake to celebrate as well as specials on bicycles and accessories from Aug. 10 to 16.
For more information on Switchback Cyclery visit www.switchbackcyclery.ca