Out of the Cold programs – InsideToronto
Coldest winter in recent history sees bigger draw for homeless at Out of the Cold programs
Volunteers sought for next year's programs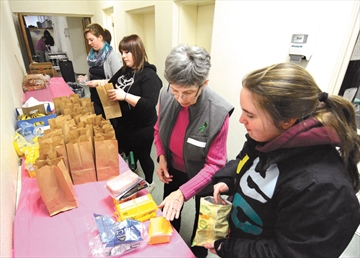 Out of The Cold
Peter C. McCusker
Preparing bag lunches for those who miss the dinner at Out of The Cold are Cathering Armstrong Helen Hitchcock, Rebecca Knapp and Hanna Lyle of Bloordale United Church volunteers for Out of The Cold in All Saints Anglican Church on Bloor St. to feed the 70 to 90 hungry homeless and provide overnight accomodation for about 20 men on Friday evenings from Nov. 22 to April 4th. Photo by Peter C. McCusker
Etobicoke Guardian
As Toronto nears the end of one of the coldest, snowiest and iciest winters in recent history, the good people who run the city's Out of the Cold (OOTC) programs for the homeless are beginning to breathe sighs of relief.
Here in Etobicoke, both the Lakeshore OOTC program at St. Margaret's Anglican Church and that at All Saints Kingsway Anglican Church have seen record numbers of men seeking shelter from the frigid cold within their welcoming walls every week.
"Last year was probably our busiest ever that I can remember, and we were averaging well over a hundred a week – and this year we're around the same number so far, if not more," Ralph Walton, program co-ordinator at the All Saints OOTC site, said in an interview last week. "(On Feb. 14), for instance, we had 102 people in for dinner, plus we were full up with 20 overnight guests – so 122 people in total."
The cold-induced spike in homeless men seeking a hot meal and a warm bed to sleep in has also impacted the numbers lining up outside the Lakeshore OOTC program at St. Margaret's Church, which normally accommodates up to 25 men every Monday night, said program co-ordinator Carol Wigle.
"We have 25 (overnight guests) on a regular basis, but we increase that to 30 when there is a cold weather alert," she said. "One night this winter, we had 31 guests, because it was just too cold to send anyone anywhere else for the night. It's been quite a challenging year. We've been full up."
At both St. Margaret's and All Saints, the OOTC programs not only offer up overnight shelter to homeless men in the community, but the church volunteers who run them also open their doors to the community for hot weekly dinners.
At All Saints, the volunteers – most of whom hail from local churches and community groups – begin arriving at the church at 5 p.m. to begin preparing at hot meal for 100+ guests, to whom the doors open at 6 p.m.
"What we also do on a weekly basis is we offer every guest, whether they're just coming in for dinner or staying the night, is we offer them fresh, new T-shirts, socks and underwear – and we've handed out a lot of gloves this year, too," Walton said.
After the hot meal is served and the dinner crowd thins out, the overnight guests are invited to make use of the church's shower and laundry facilities, while a public health nurse undertakes to see to their urgent medical needs.
This year, Walton said, foot issues have been a "huge problem" among many of the men – "which is one of the biggest reasons we like to give them all new socks."
"We also have limited access to coats and that kind of thing, but I don't find there's a lot of demand for it. I do keep a small stock of new boots, new gloves, new coats and a couple of extra sleeping bags on hand, though, because sometimes a guy will come in for an overnight and really have nothing. So, it's kind of nice to start him off with new clothing."
Down at St. Margaret's – which opens its doors to guests at 2 p.m. every Monday to enjoy an afternoon of movies in the warm church prior to dinner and the overnight stay – this year's "hot item" has been long johns.
"This year it hasn't been possible to keep them in stock – it's just been that kind of winter," Wigle said, noting that St. Margaret's also offers each of its guests sets of new T-shirts, socks and underwear, while also providing laundry services. "We have a nurse who comes in every week, and she was saying that one of the things she has noticed a lot of this year is frostbitten hands and feet. Our guests have had many challenges to overcome this winter, and we're here to help in any way we can."
While this season's OOTC program is winding down – All Saints will serve its last guests of the winter on April 4, while St. Margaret's program closes up shop for the year on March 31 – preparations will soon be underway for next winter, both Walton and Wigle said.
"I'm always on the lookout for new volunteers. At this time of the season, we've sort of got ourselves in place and people have their spots, but we're already starting to think of the fall for next year, we schedule volunteer groups for the dinners during the summer," he said.
To those considering pitching in next year, Wigle said the OOTC volunteer experience can be an enlightening one.
"You come to realize just how little some people have – and despite that, they're still hanging in there. What I get out of this is, really, you can't criticize people for being on the streets, because there but for the grace of God, go the rest of us," she said. "Some of the people who come here had really successful lives and things just didn't go for them – either they lost a job, they had a bad marriage, or they maybe drank too much. We aren't in a position to judge them, we're just here to help in any way we can and to be their port in the storm."
***
– The Out of the Cold program at All Saints Kingsway Anglican Church, 2850 Bloor St. W. (at Royal York Road), runs every Friday night from Nov. 22 to April 4, 6 to 8 p.m. The program can accommodate 20 male overnight guests, providing a hot dinner, warm place to sleep, laundry and shower facilities, access to a nurse, as well as a hot breakfast and bag lunch.
For more information about how to donate or volunteer, email office@allsaintskingsway.ca
– The Lakeshore Out of the Cold program at St. Margaret's Anglican Church, 156 Sixth St. (near Islington Avenue and Birmingham Street), runs every Monday from Nov. 18 to March 31 from 2 p.m. to 8 a.m. The program accommodates 25 to 30 male overnight guests, providing a hot dinner, warm place to sleep, laundry facilities, access to a nurse, as well as a hot breakfast and bag lunch the next morning.
For more information about how to donate or volunteer, email lakeshore@ootc.ca