Covenant House spreads word about challenges of youth living on street
Covenant House Month hopes to raise awareness and funds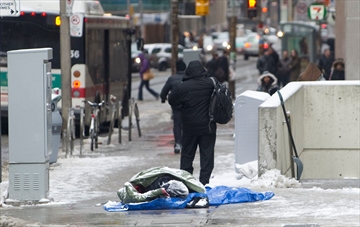 Staff file photo/NICK PERRY
City Centre Mirror
On what is usually the coldest month of the year, Covenant House is looking to spread the word surrounding some of the challenges faced by youth living on the streets.
The organization has launched its first Covenant House Month to raise awareness and funds to help provide services for homeless youth.
"In spite of all the statistics that show how many people are homeless across Canada and here in Toronto, studies show that most people are still unaware of the problem," said Erin Boudreau. Covenant House spokesperson. "It's a national epidemic, so we're calling attention it, advocating for people to pay attention and raising funds."
Covenant House provides shelter and support services for some 3,000 youth per year, offering not just a place to sleep but education and employment training, health care, counseling and more.
Many of the youth it serves wound up homeless because of mental illness or because they were fleeing abuse.
Kiwayne Jones, 25, grew up in the foster care system and used Covenant House as a stepping stone on the road to fulfilling his dreams.
"When I came out of the foster care system, I was trying to manage school, a job and housing at the same time," he said. "It was a big challenge and I wound up losing my housing and dropping out of school."
He went to Covenant House, where he got far more just a roof over his head.
"I started out in the shelter first and I made use of their services for about four years," he said. "I was going down a path in my life where being at Covenant House was the right place for me to be. They helped me get back into school, get health care, get the ID I needed. They put me back on track."
Thanks to the support he received, he is now in the second year of a three-year construction engineering program at George Brown College. He said he plans to use his education to fulfil an ambition he has harboured for the past few years.
"I want to build better community centres," he said. "In my situation, I used community centres a lot and want to make them better for youth."
Covenant House chose February to host Covenant House Month both because February tends to be freezing, adding yet another element of danger for youth living on the streets, and because the organization opened its door in February 1982.
Boudreau said she hopes the month helps spread the news about the work the organization does and encourages more people to donate to the cause.
In addition to getting the word out via social media, Covenant House Toronto will host a special event Feb. 27 in which special guest, Toronto police chief Bill Blair will speak about youth homelessness in the city and Covenant House International President Kevin Ryan will speak about the sexual exploitation of homeless youth.
For more information on Covenant House Toronto and its programs, visit www.covenanthousetoronto.ca